Animal Feed Pellet Machine (Chicken Poultry Feed Pelletizer)
Animal feed pellet machine also known as feed pelletizer machine, also used for chicken feed machine, it allow you to make feed material into pellets easily. Generally, the size of pellets produced is between 2mm and 10 mm. Pellets make ideal fodder for chickens, rabbits, ostriches, and even fish.
Using feed in pellet form can help to reduce transport costs
Pellets make animal feeding easier and cleaner
They enable the distribution of a protein food as a concentrate
They prevent acidosis
Why Choose Pellet Mill Machine?
The pressure of animal feed pellet machine is greater and is adjustable. This means that it can be used to make more type of pellets using soybean, corn, wheat, rice husk, straw, cottonseed husk, weeds, and all kinds of crop straw and plant waste.
Feed pelletizer machine is small and lightweight, it has low energy consumption and is easy to operate. This is particularly suitable for small farms in areas with power shortages, making small-scale production possible.
Specifications of Chicken Feed Pellet Machine
Model
CAPACITY (Ton/H)
SIZE (M)
POWER (KW)
NET WEIGHT (kg)
Small type (HT-SP)
300kg/h
0.65 x 0.45 x 0.9
2.2
100
HT-P 1
1
1.65 x 0.85 x 1.85
22
1100
HT-P 2
2
2.2 x 1.3 x 1.8
37
HT-P 5
5
1.5 x 1.2 x 3.8
55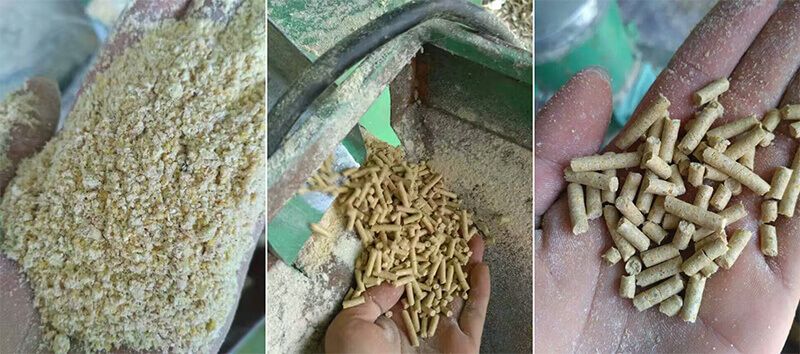 GET A QUOTE
keyboard_arrow_leftPrevious
Nextkeyboard_arrow_right