Introduction
Pulp egg tray making machine are used to produce a range of pulp molded products including egg trays, egg boxes, fruit trays, and coffee trays.
The material used for molded pulp products is waste paper, corrugated paper, waste newspaper, and old magazines.
Pulp molding egg tray machine can be made using 4 or 8, 12 faces rotating drums and each surface can incorporate 2, 3, 4, or 5 pieces moulds as required.
Production Line
The production line includes a pulp making system, an egg tray molding system, an egg tray drying system, and an egg tray packing system. For an overview of the manufacturing process of our egg tray machines have a look at our Youtube video: https://youtu.be/6_uK-wQtSPg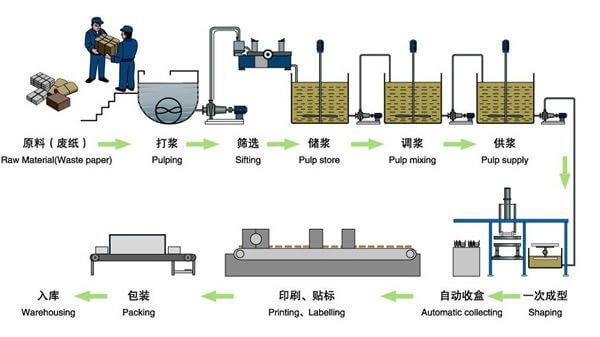 1. Pumping system
This incorporates a hydrapulper, a pulp pump, an air compressor, agitator, a self priming pump, and a pulping machine.
2. Molding System
The forming system involves a fully automatic egg tray forming machine, a vacuum pump, a high-pressure washer, a negative pressure tank, mould, transfer mould, and a baler.
Usually, the mold material is plastic and it can be customized in various ways to form different shapes for wine or fruit trays, industrial packaging, for flower pots, and for disposable bowls.
3. Drying system
There are various drying options:
If the capacity is small, the egg tray can be air-dried.
A brick kiln drying system requires the least investment, making it the most economic and the highest efficiency production line. It is suitable for most countries except those where brick is expensive.
Metal drying may be used where brick kilns are too expensive. Single layer metal drying is easy to install and it looks attractive.
Multi layer drying is done in six layers so it does not require much space. It is a fully automatic production process that is easy to install. It is particularly well suited to workshops where space is limited.
Specification of the egg tray machine
Type
ZT-3×4
ZT-3×8
ZT-4×4
ZT-4×8
ZT-4×12
Capacity
2000pcs/hr
2500pcs/hr
2500pcs/hr
5000pcs/hr
6000pcs/hr
Workshop Requirement
≥100 M2
≥100 M2
≥150 M2
≥150 M2
≥150 M2
Electricity Consumption
30-55KW
30-55KW
40-60KW
80-110KW
180-270KW
Material Consumption
110-120 kg/hr
130-150 kg/hr
150-160 kg/hr
240-320 kg/hr
290-380 kg/hr
Worker Requirement
3-4
4-5
4-5
5-6
5-6
Q: What can Hightop Poultry Equipment produce?
A: Pulp moulding machines, egg tray machines, egg packing machines, egg boxes and carton machines, fruit tray machines, industrial machines, seeding tray machines and the whole production line. All kinds of moulds including egg tray moulds, egg box and carton moulds, fruit tray moulds, seeding tray moulds, industrial moulds and so on. Also drying lines.
Q: What capacity per hour do you offer?
A: The capacity of our machines varies from 1000pcs/hr to 9000pcs/hr.
Q: Do your products come with a warranty?
A: Yes, we have a one year warranty according international practices.
Q: Can you customize this kind of product?
A: Yes, we offer custom-made services to our customers. All you need to do is provide us with the necessary detail including photos, dimensions and so on.
Q: Can you give me a low price?
A: Yes, we are the manufacturer. So we not only guarantee quality, we are also prepared to negotiate a lower price.
Q: How will I know how to install your machine?
A: The seller dispatches engineers to the buyer's factory, but the buyer is expected to help with installation. The seller is responsible for installation, testing and training for 30 days; the buyer should insure the safety of the engineers.
Installation and warranty
A: We are able to send two engineers to the buyer's factory. They will be responsible for the instruction of installation of machines as well as the training of the operator until the machine is working normally. All the expenses out of China (including the round-trip air tickets, food and hotel bills, salary at US$70 per day for an engineer) must be borne by the buyer. The buyer should prepare one translator for our engineers to be able to communicate efficiently.
B: Forming machine warranty time: 12 months (not including the mould and quick-wear parts). The seller will provide below quick-wear parts for free to the buyer:
Proximity switch – 10 units
Solenoid valve – 1 unit
Mold core – 10 boxes
C: Within 3 months, if the vacuum pump, motors or air compressor is broken because of the quality of the machine itself, the buyer should send the problem part back to seller, the seller will provide the new one immediately. HIghtop Poultry Equipment will not take responsibility for any damage due to incorrect operation by workers.
D: After the guarantee period the seller will send an engineer on the buyer's request. All the expenses of this engineer will be borne by the buyer's company, and a service charge will be negotiated by the buyer and the seller.
GET A QUOTE
keyboard_arrow_leftPrevious
Nextkeyboard_arrow_right