Why use broiler cage system?
1. Saving space.
More broilers can be fed in the cage putting the space to better use. The H type of broiler cage system has three tiers, with the third cage near to the ground. The second and top tiers are on top of the third tier. Facts prove that the capacity in broiler cage is three or four times than on ground in same area.
2. Saving feed.
The old way to feed is on the ground, with broilers eating, walking and sleeping on the ground. Workers added food to the feeder, but they were not able to control the quantity of food. So they would simply feed the broilers a fixed amount at certain times.
Reducing the spread of disease
Ventilation is better in broiler cage than on the ground, which is how the broiler cage system help to prevent the transmission of disease and bacteria amongst the flock.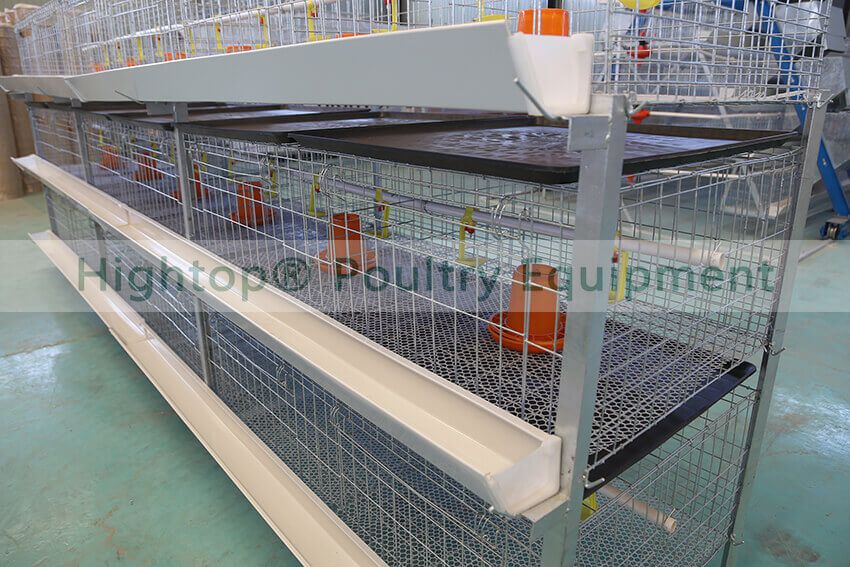 Hightop® Normal H Type Broiler Chicken Cage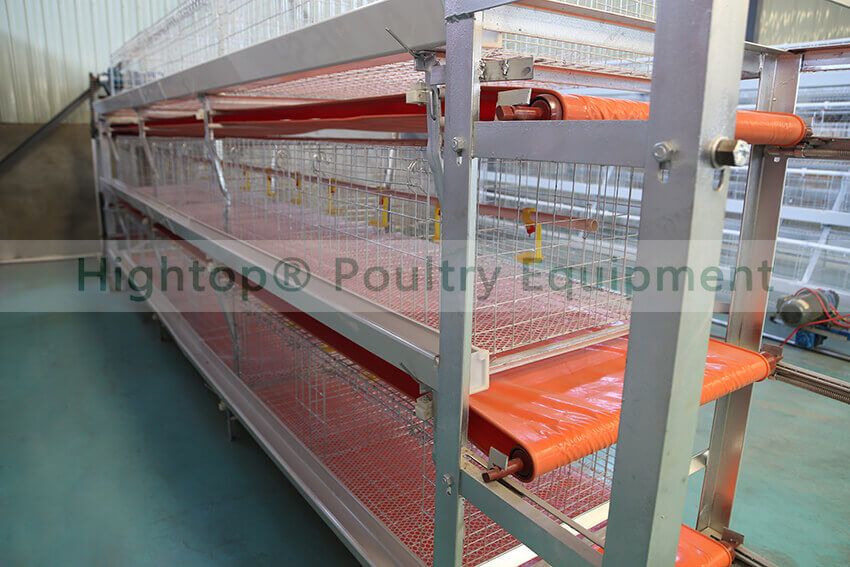 Hightop® Broiler Cage System with Manure Removal Belt
The main difference between A and H type broiler cages system is the method used to remove the droppings, A type cages use a manure scraper, while the H type uses a belt to remove the droppings.
Broiler Cage System Specifications
Item No.
Type
Size (L x W x H)
Nos of Nest per Tier
Nos of Nest per Set
Nos of Broiler per Nest
Nos of Broiler per Set
HT-BH3
"H" Type, 3 Tiers
1.4 x 0.7 x 1.75m
2
6
9 or 10
54 or 60
HT-BA3
"A" Type, 3 Tiers
1.95 x 2.4 x 1.5m
6
18
4
72
Item No. Desc
"HT" – Hightop® brand; "B"-Broiler; "H" – H type/shape; "A"-A type; "3" – 3 tiers
Material
Q195 low carbon steel wire or
Q235 low carbon steel wire
The Finish
1. Electro Galvanized or
2. Hot Dipped Galvanized or
3. PVC Coated.
Life span
Electro Galvanization (7-10 years);
Hot Dip Galvanization (15-20 years);
PVC Coated (15-20 years)
How to choose the other equipment you need using H type broiler cage system?
If you hatch the chicks on your farm you may need an incubator and hatcher. We can provide equipment for a 48,000 to 50,000 egg capacity.
If you choose H type broiler cages system, these already have a manure cleaning system. It is best to place 40-70 sets in one line, which means that the length of the broiler house will be between 60 and 104 m. If the quantity you order is small the cages will not include the manure-cleaning belt. Instead we will use a plate to collect the droppings.
You can also use our semi-automatic feeding machine for H type broiler cages to feed the food. These are small and cost less than fully automatic machines and because they use a battery only, they avoid the problems associated with power failures. You can feed 10,000 broilers in about half an hour, which represents a great labor saving cost.
| | | | | | | | | | |
| --- | --- | --- | --- | --- | --- | --- | --- | --- | --- |
| Model | Tiers | Length | Span | Height | Nest /Layer | Size of The Nest | Total No.s of Nest | Quantity /Nest | Capacity /Set |
| H type | 3-tier | 1.4m | 0.7m | 1.75m | 2 | 0.7 x 0.7 x 0.4m | 6 | 9-10 | 54-60 |
You can see pictures of the different options below:
Why Choose Hightop® Poultry Cage System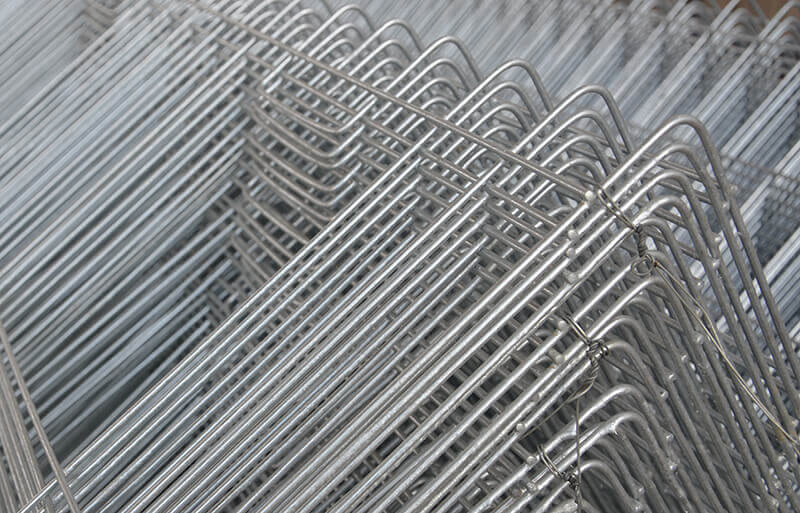 1. The better raw material selection
The hardness of metal wire depends on its carbon content. The metal wire we use for our broiler cage comes from a large steel factory in China and it is very tough and hard, as well as ductile and malleable so that it is not damaged under stress. Our broiler cage system generally has a lifespan that is at least three years more than the common factory-made types.
2. Lifespan of up to 20 years
The thick zinc coating on the hot-dipped galvanized cage mesh will ensure your broiler chicken cage will be protected from corrosion and rust for at least 10 years, while the broiler battery cage itself will last for double this time.
3. Broiler battery cage mesh design
The big sliding door design makes it easy to remove the chickens.
4. All necessary accessories are included
Accessories comprise a regulator or water tank, a water tank frame, a nipple drinker, installation tool, M-nail, water pipe, connector for the pipe, feeder connector, end cup, and the best type of PVC feeder trough.
5. Very easy to install.
We can send the installation video to you. You can check it out on YouTube: https://www.youtube.com/watch?v=htrRyqfKb6s
6. Free layout design
We offer a free design service based on the size of chicken house or coop you want.
Broilers usually need six weeks to grow up, but you need to tell us at what age you want to sell your mature broilers. We also need to know how many broilers you want to feed every month, then we can estimate how many broiler chicken cages you need.
Our semi-automatic feeding machine is 0.55m wide. The minimum width to be able to use our semi-automatic feeding machine is 0.7 m, but if your area is very hot, and the scale of the chicken house is large, the width can be bigger to ensure good ventilation. Usually we design walkways to be between 0.7 m and 1.2 m.
The 3-tier broiler cage system is 1.75 m long, so the chicken house should be about 2.5m high. This is the most common type customers adapt, because 4-tiers tend to be a little high, more than 2m.
7. If LCL handles delivery, you will receive your goods in firm, solid packaging
8. Many customers order full containers and get back to our company after they receive the goods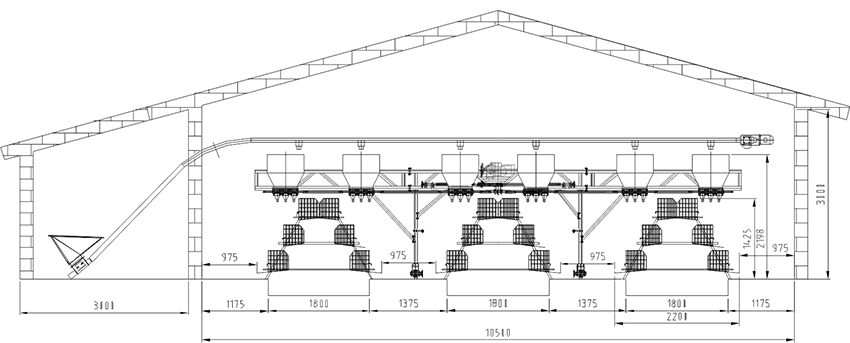 We can also provide poultry house layout design
GET A QUOTE
(No Fields)
keyboard_arrow_leftPrevious
Nextkeyboard_arrow_right