Why Use Broiler Cage System?
Saving Space: More broilers can be fed in the cage putting the space to better use. The H type of broiler cage system has three tiers, with the third cage near to the ground. The second and top tiers are on top of the third tier. Facts prove that the capacity in broiler cage is three or four times than on ground in same area.
Saving Feed: The old way to feed is on the ground, with broilers eating, walking and sleeping on the ground. Workers added food to the feeder, but they were not able to control the quantity of food. So they would simply feed the broilers a fixed amount at certain times.
Reducing Spread of Disease:Ventilation is better in broiler cage than on the ground, which is how the broiler cage system help to prevent the transmission of disease and bacteria amongst the flock.
Difference Between A and H Type Broiler Cages System
The main difference between A and H type broiler cages system is the cage structure and method used to remove the manure, A type cages use a manure scraper at the cage bottom, while the H type uses a manure removal belt at each tier.
H Type Battery Cage for Broilers
Broiler Cage System Specifications
Item No.
Type
Size (L x W x H)
Nos of Nest per Tier
Nos of Nest per Set
Nos of Broiler per Nest
Nos of Broiler per Set
HT-BH3
"H" Type, 3 Tiers
1.4 x 0.7 x 1.75m
2
6
9 or 10
54 or 60
HT-BA3
"A" Type, 3 Tiers
1.95 x 2.4 x 1.5m
6
18
4
72
Item No. Desc
"HT" – Hightop® brand; "B"-Broiler; "H" – H type/shape; "A"-A type; "3" – 3 tiers
Material
Q195 or Q235 mild steel wire
Surface treatment and life span
1. Electro Galvanized (7-10 years);
2. Hot Dipped Galvanized (15-20 years);
3. PVC Coated (15-20 years)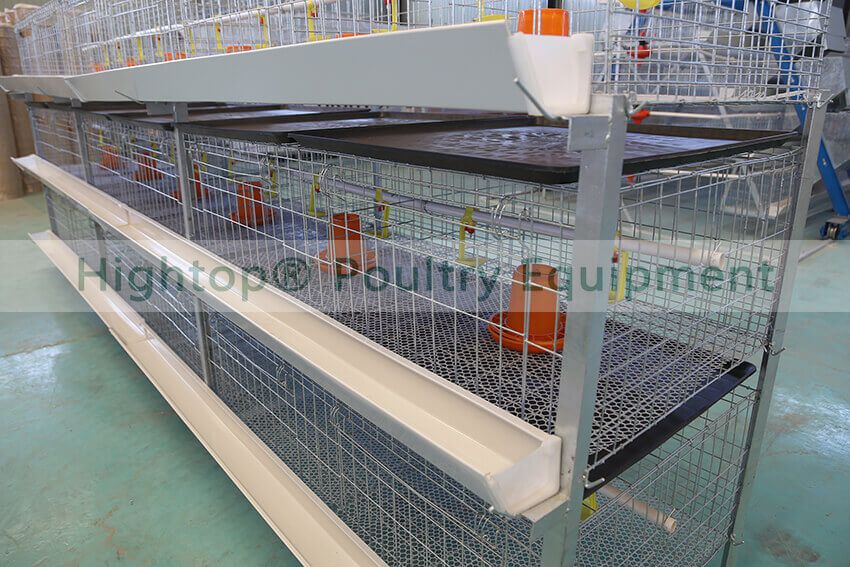 Hightop® Normal H Type Broiler Chicken Cage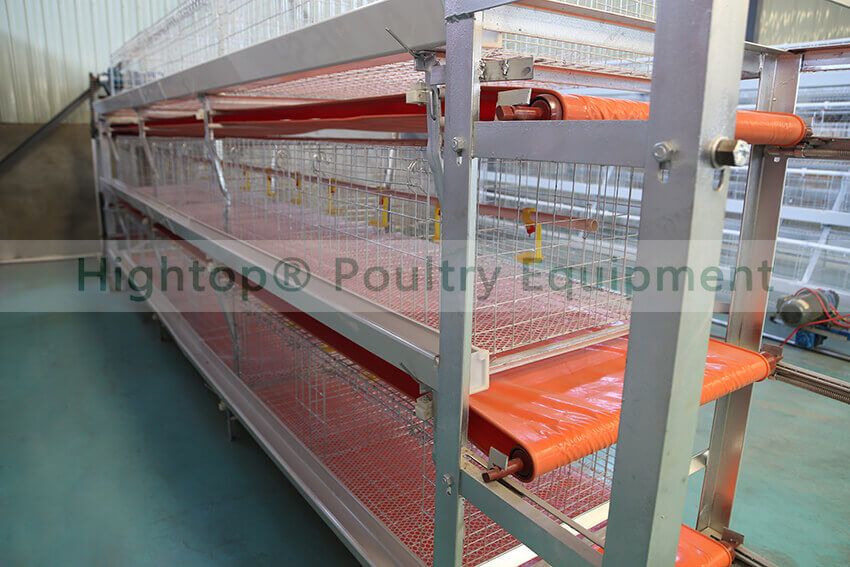 How to Choose Other Broiler Equipment?
If you hatch the chicks on your farm you may need an incubator and hatcher. We can provide equipment for a 48,000 to 50,000 egg capacity.
If you choose H type broiler cages system, these already have a manure cleaning system. It is best to place 40-70 sets in one line, which means that the length of the broiler house will be between 60 and 104 m. If the quantity you order is small the cages will not include the manure-cleaning belt. Instead we will use a plate to collect the droppings.
You can also use our semi-automatic feeding machine for H type broiler cages to feed the food. These are small and cost less than fully automatic machines and because they use a battery only, they avoid the problems associated with power failures. You can feed 10,000 broilers in about half an hour, which represents a great labor saving cost.
GET A QUOTE
keyboard_arrow_leftPrevious
Nextkeyboard_arrow_right