Features of the Ventilator
The poultry house environment control system is a machine that is made from hot galvanized steel sheet combined with high-strength steel plate that supports the machine and helps to keep it level. It has an independent device for opening and shutting that ensures it remains at 90 degrees and will cut off when necessary with having to open.
The motor of the machine utilizes 100 percent copper wire filling that results in durability and a low repair rate. Please note that the 380 v / 220 v, Siemens motor requires a separate order.
The transmission belts utilized are either Samsung imports or three Guinness B belts from in Zhejiang Province in China.
The blades are made from high quality corrosion resistant Grade 430 stainless steel. They are very strong and create a large volume of air.
The protective stainless steel cage is closed to prevent foreign matter and birds from getting into the exhaust fan.
Shutter plates are thick and durable.
Exhaust Fan Specifications
Name
Size
Power
Voltage
Motor
Body
Flabellum
Size
36 inch Fan
36 inches
0.55kw
220/380V
100% copper wire
High strength hot
dipped galvanized plate
430 stainless steel
1 x 1m
50 inch Fan
50 inches
1.1kw
220/380V
100% copper wire
430 stainless steel
1.38 x 1.38m
Cooling pad system
The longitudinal design used for cooling-fan ventilation is the most economical and effective way to reduce the temperature of chicken houses in summer.
Working principle:
It is a natural phenomenon that heat is absorbed when water is evaporated, however the efficiency of evaporation depends on the evaporation area involved.
When hot air passes through the cooling pad in the machine, heat is absorbed mostly by water evaporation. This way temperature is reduced. The more water that is evaporated, the greater the reduction in temperature.
The cooling pad is used together with the exhaust fan. The system draws incoming air through the cooling pad, which is positioned at the inlet of the ventilation system.
Corrugated paper in the cooling pad is key to the humidification and cooling system. The drier the air is at a relatively low humidity, the greater the ability of the cooling pad will be for evaporation to take place.
Generally, humidity will be low during the hottest time of the day, when cooling is needed. At this time the air can be cooled several degrees.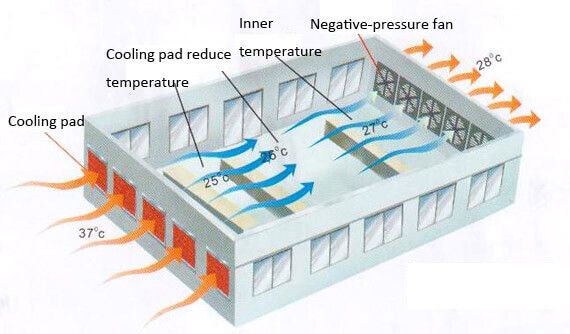 Cooling pad features
Our products have been widely used in a number of fields of farming including poultry, greenhouse, animal husbandry, and livestock.
Corrugated paper used with spatial cross-link technology, ensures a high level of absorbtion.
High-water resistance, economical, and durable.
Low energy consumption that equals just one-tenth of traditional air conditioners.
Does not contain harmful chemical elements, and is environment-friendly.
Galvanized steel, an aluminum frame, and plastic-steel are optional.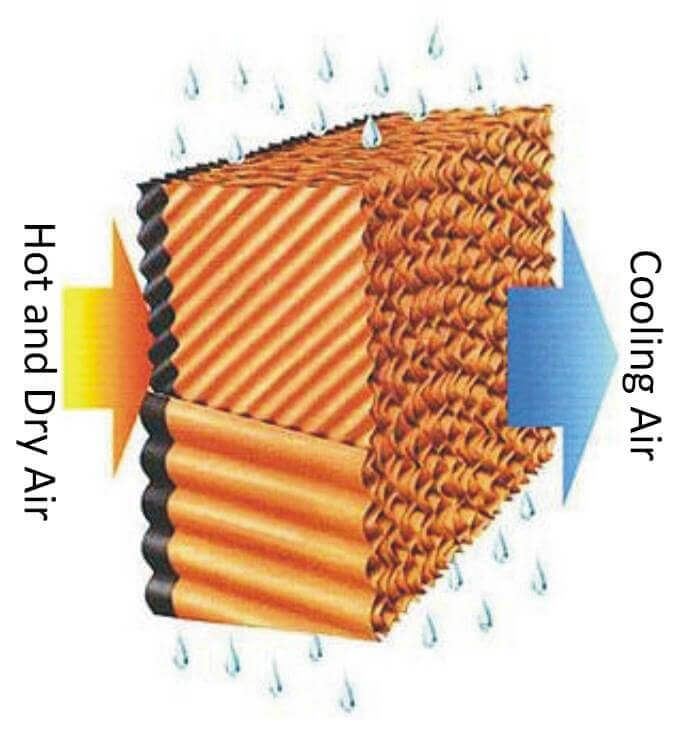 Parameters
Our cooling pad utilizes Kiamusze paper that has a high resistance to corrosion.
We have two models: 7090 and 5090
The cooling pad can be 10 cm, 15 cm, or 20 cm thick; the maximum height is 2.4 m; the width is unlimited.
60 cm cooling pads are made from 85 sheets of paper to reach the strength requested.
The paper thickness varies from 0.18 to 0.20 mm, its strength is 18 N, and it's color is varied. It is fully compliant with national standards.
The material used for packaging includes an aluminum alloy frame and galvanized sheet package box that is strong and resistant to corrosion. Installation is simple and it is easy to clean, making it the farmer's cooling equipment of choice. Its maximum service life is five years.
keyboard_arrow_leftPrevious
Nextkeyboard_arrow_right