Get Quote Now!
Professional Poultry Cage Manufacturer
Hightop® poultry equipment provides quality poultry cage (layer chicken cage or battery cage) and chicken farm equipment, click the inquiry button to get the latest price and free Poultry Farm Layout Design.
Get Quote Now!
Designed for Wet Tropical Zone
Our chicken cages are specially designed for wet tropics (such as Philippines, Thailand, Malaysia, Indonesia, Papua New Guinea, etc.), using high corrosion-resistant marine-grade material, which has been widely used in coastal dams and has excellent corrosion resistance.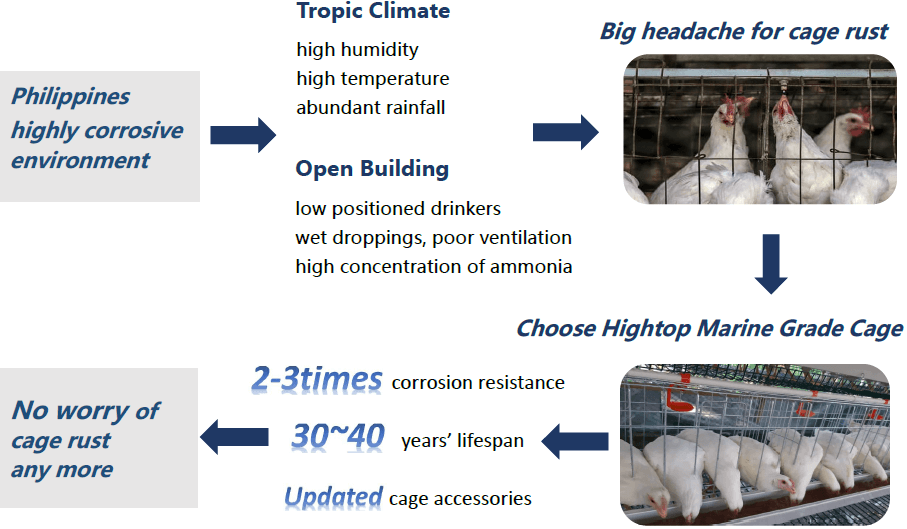 Marine Grade Material Service Life Up to 40 Years
The heavy galvanized or Galfan coating on mesh surface of layer cage will ensure your chicken cage protected from corrosion and rust for at least 30 years, while the battery cage itself will last for double this time.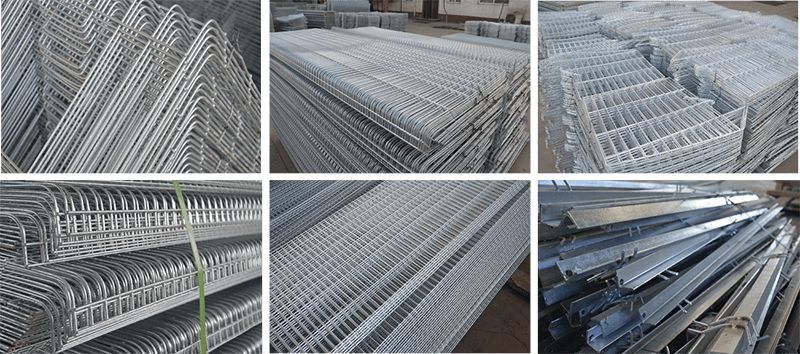 Why Does Our Chicken Cage Anti-rust?
We use new surface treatment for our cage – Galfan.
Galfan is Zn-Al alloy coating, which features great corrosion resistance in severe marine environment.
For example, Gabion box, a box made by Galfan wire, is usually used for preventing coastal erosion.
Galfan coating loss is 50-70g/㎡ after 10 years in marine environment.
Our cage Galfan coating quantity is at least 275g/㎡, so it can be used for 30-40 years!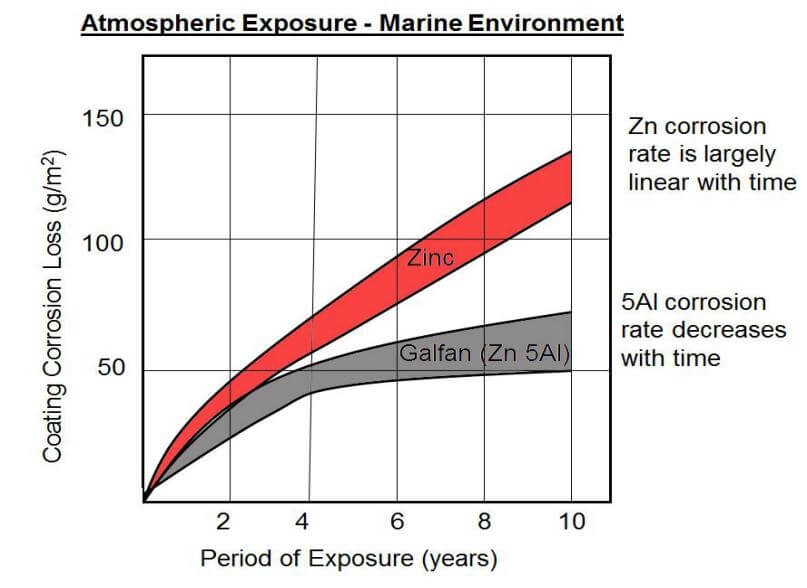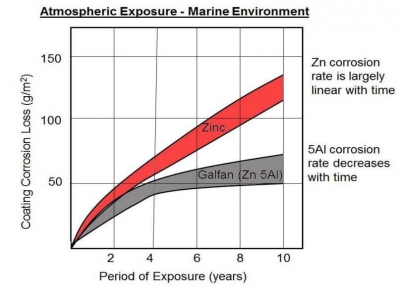 Excellent Cracking Resistance
Traditional galvanized cage is coated with zinc.
For our marine grade chicken cage, aluminum is added to produce the intermetallic layer at the interface of the steel and the coating, so Galfan coating features great adhesion and cracking resistance.
Therefore, our cage has no zinc cracking or peeling off even after welding and bending during production.
Coating Attributes
Regular Hot-Dip Galvanize
Galfan (GF)
Composition (%)
Zinc
99.8
90
Aluminium
0.2
10
Sillicon
0
0
Mischmetal
0
0.05
Formability
4
5
Paint Adhesion
4
5
5=best, 1= worst, Coating attribute data sourced from ILZRO
Other Advantages of Our Cage
1. Strong cage
We use Q235 steel wire. Its yield strength and tensile strength are both higher than Q195. After loading heavy chickens, our cages will not bend.
Chemical Composition (%)
Steel wire
C(≤)
Si(≤)
Mn(≤)
P(≤)
S(≤)
Q235
0.22
0.35
1.4
0.045
0.05
Q195
0.12
0.3
0.5
0.035
0.04
Mechanical Properties (Mpa)
Steel Wire
Yield Strength
Tensile Strength
Q235
235
780-820
Q195
195
315-430
2. Stable and firm cage frame
The cage stand can be connected with the building, so it is stable even when there is earthquake or typhoon.


3. Smooth and bright cage surface-safe for chicken eggs and feet
Cage wire surface has no glitch, no zinc crape, so it is can keep your chicken eggs and
feet safe.
Compared with PVC cage, it also reduces production time.

4. Customized cage size especially for Philippines market

5. Good quality accessories

6. All necessary accessories are included
Accessories comprise a regulator or water tank, a water tank frame, a nipple drinker, installation tool, M-nail, water pipe, connector for the pipe, feeder connector, end cup, and the best type of PVC feeder trough.
7. Very easy to install
We can send layer cage installation video to you. You can check it out on YouTube: https://www.youtube.com/watch?v=htrRyqfKb6s
8. Free layout design
We provide free layout out design according to your chicken quantity and building size.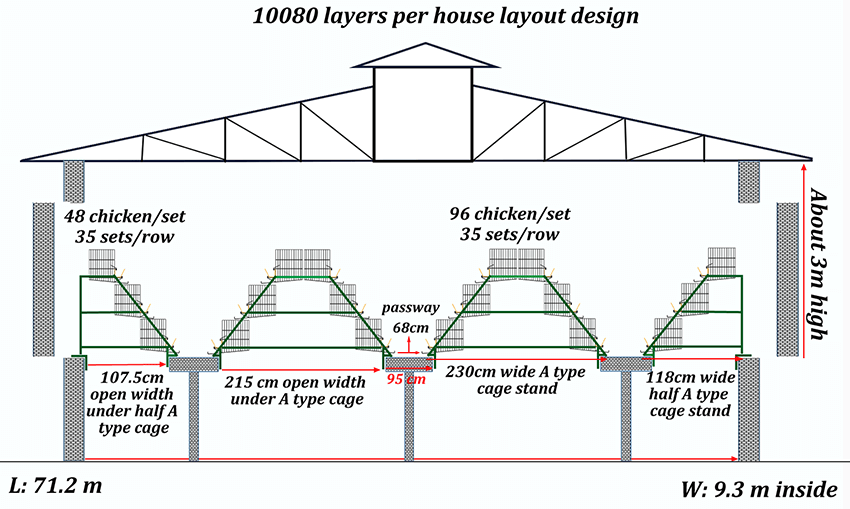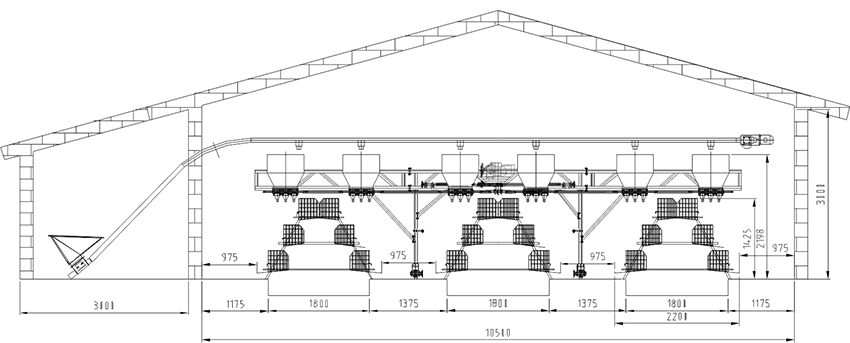 Why Use Layer Cage
A layer chicken cage is a kind of poultry cage, also known as battery cage system, which is used for rearing egg-hens after the pullet grown for 12 to 16 weeks, it is used in chicken farm to increse egg production.
The biggest advantage of layer cages is that they effectively increase egg production to 98%. They also make it very easy to handle chicken waste (especially manure) and to reduce transmission of diseases.

Battery Cage System Model No. designation:
"HT" – Hightop® brand;
"A" – A shape;
"34" – 3 tiers 4 nests (doors);
"L" – Large size
Model
Overall size (L x W x H)
Nest per strip
Total nests (doors)
Size of the nest
Chickens/nest
Capacity (Birds/Set)
HT-A34 (Hot sale)
1.88 x 2.1 x 1.5 m
4
24
0.47 x 0.35 x 0.37 x 0.32 m
4
96
HT-A45L (Hot sale)
2.15 x 2.4 x 1.95 m
5
40
0.43 x 0.38 x 0.38 x 0.33 m
4
160
HT-A34-Half
1.88 x 1.1m x 1.5 m
4
12
0.47 x 0.35 x 0.37 x 0.33 m
4
48
HT-A34L
2.0 x 2.1 x 1.5 m
4
24
0.50 x 0.38 x 0.38 x 0.33 m
4
96
HT-A35L
2.15 x 2.1 x 1.5 m
5
30
0.43 x 0.38 x 0.38 x 0.33 m
4
120
HT-A44
1.88 x 2.4 x 1.95 m
4
32
0.47 x 0.35 x 0.37 x 0.32 m
4
128
HT-A44L
2.0 x 2.4 x 1.95 m
4
32
0.50 x 0.38 x 0.38 x 0.33 m
4
128
Material
Low carbon steel Q235;
Surface Treatment and Service Life
Hot-dip galvanized, Zinc coating: ≤ 275 g/m2, (15-20 years);
Galfan coated Marine grade, coating: ≥ 275 g/m2 (30-40 years)
How to choose the equipment you need?
you have less than 2,000 chickens we advise you to only buy poultry cage. Drinking system is automated, but workers need to feed the chicken manually, as well as collect the eggs, and remove the droppings.
If you have between 5,000 and 10,000 chickens we suggest you purchase the manure removal machine as well as battery cages. By removing the droppings timeously, you will reduce the possibility of disease and improve the egg production rate, at the same time saving even more time and labor costs. The manure scraper machine is the most economical type. A semi-automatic chicken feeder is also necessary for this quantity of chickens. It is small and costs less than a fully automatic machine, and because it uses a battery cage, you will avoid the inconvenience of power failures. You can feed 10,000 chicken in just half an hour, and save a lot on labor.
If you have more than 10,000 chickens you may need to get fully automatic equipment including battery cage, automatic chicken feeder, automatic egg collector, as well as manure scraper (automatic manure removal system). If the scale of your operation exceeds 50,000 chickens, you will need a feed silo. For less than 50,000 chickens you can just use one screw conveyor to convey the food to the hopper. If you want to build a closed system, you need to know that an exhaust fan and cooling pad are necessary environment control equipment items. If you use an open system and the weather is hot, you can use a fogger.
Or you can just contact us directly, tell us how many chickens you want to feed, whether you have built the chicken house yet, or what the size of your chicken house needs to be. Send your enquiry and we will arrange for our sales manager to contact you via email or whatsapp to give you suitable advice.
Hightop Broiler Cage
Hightop poultry equipment has been in the broiler cage manufacturing for about 15 years and has rich experience in poultry farm design, as an iso 9001:2015 certificated company, our products and services have the following advantages:
Cage service life can reach 20-40 years depending on the material and environment;
Providing full accessories – Nipple drinking system, medication tanks, water tanks, adjustable foot plates for leveling, water pipe, pipe connector, feeding trough, cage iron frame, etc;
Related matching equipment optional;
On time delivery;
Free chicken cage layout design;
Cage installation instruction & video installation guide;
One-stop shopping;
Professional team help you build the scientific farm;
Best pre-sales and after-sales service;
Prompt reply within 12 hours.

Model No. designation: "HT" – Hightop® brand; "B"-Broiler; "H" – H type/shape; "A"-A type; "3" – 3 tiers
Broiler Cage Specifications
Item No.
Type
Size (L x W x H)
Nos of Nest per Tier
Nos of Nest per Set
Nos of Broilers per Nest
Nos of Broiler per Set
HT-BH3
"H" Type, 3 Tiers
1.4 x 0.7 x 1.75m
2
6
9 or 10
54 or 60
HT-BA3
"A" Type, 3 Tiers
1.95 x 2.4 x 1.5m
6
18
4
72
Material
Q235 low carbon steel wire
Cage surface treatment and service life
Hot-dipped galvanized (15-20 years);
Galfan coated (30-40 years)
How to choose the other equipment using H type broiler cage?
If you hatch the chicks on your farm you may need an incubator and hatcher. We can provide equipment for a 48,000 to 50,000 egg capacity.
If you choose H type broiler cages these already have a manure cleaning system. It is best to place 40-70 sets in one line, which means that the length of the broiler house will be between 60 and 104 m. If the quantity you order is small the cages will not include the manure-cleaning belt. Instead we will use a plate to collect the droppings.
You can also use our semi-automatic feeding machine for H type cages to feed the food. These are small and cost less than fully automatic machines and because they use a battery only, they avoid the problems associated with power failures. You can feed 10,000 broilers in about half an hour, which represents a great labor saving cost.
Day old chick cage
Chick cages are used for baby chickens, because the mesh size of adult cage is too large for these babies. The chick cage can hold the day old chicks for two to four weeks.
"HT" – Hightop® brand; "C" – Chick Cage; "A"-A Type; "H"-H type/shape; "3" – 3 tiers
Specifications of Chick Cage
Item No.
Type
Size (L x W x H)
Nos of Nest per Tier
Nos of Nest per Set
Nos of Chick per Nest
Nos of Chick per Set
HT-CH3
"H" Type, 3 Tiers
1.4 x 0.7 x 1.2m
2
6
19
114
HT-CH4
"H" Type, 4 Tiers
1.4 x 0.7 x 1.65m
2
8
19
152
HT-CA3
"A" Type, 3 Tiers
2.0 x 2.4 x 1.46m
6
18
12
216
Material
Q235 low carbon steel wire
Cage surface treatment and service life
Hot Dipped Galvanized (15-20 years);
Galfan coated (30-40 years)
GET A QUOTE
keyboard_arrow_leftPrevious
Nextkeyboard_arrow_right